Nelia and Tom are wonderful.  They are the perfect second halves of each other, bursting with laughter, humor, and love. Looking for beauty off the beaten path and away from the madness of Los Angeles, they decided to elope on Pfeiffer Beach with simply an officiant and myself, serving as both photographer and witness.
Soaring Starkey was their officiant, and was PHENOMENAL.  She glided through Nelia and Tom's emotions like a kite, and enshrined the sunny beach with her sincere wishes for the couple.  It was nice to see a such a special take on things, as she had Nelia and Tom close their eyes, and put all of their love and passion for each other as they kissed their wedding rings, before slipping them onto each other. Much info straight from the bride? See below the photos in this post to read on…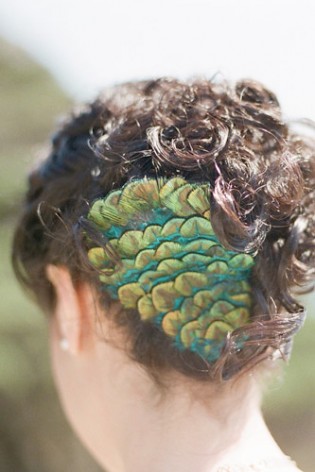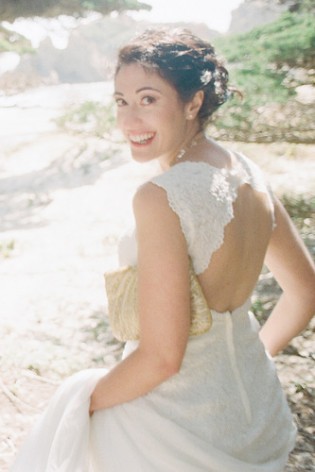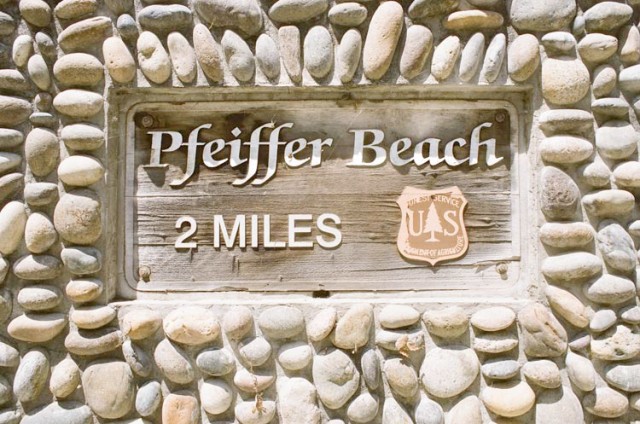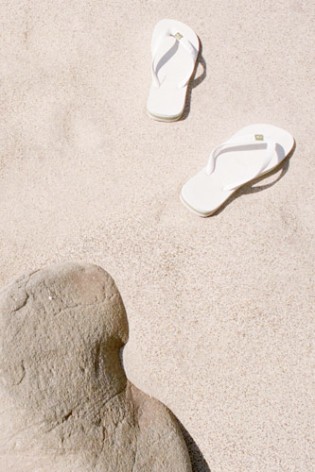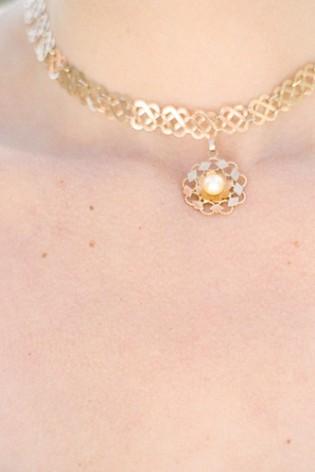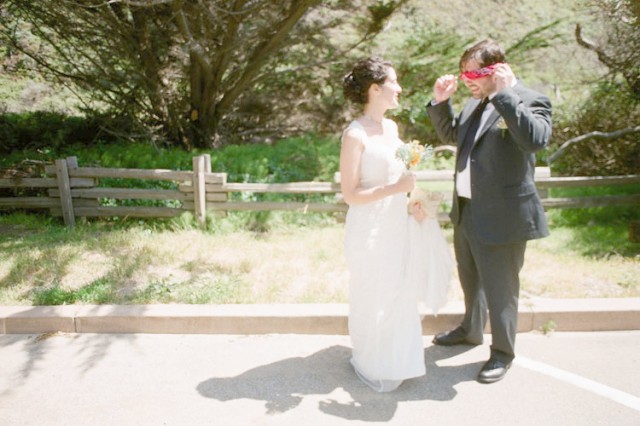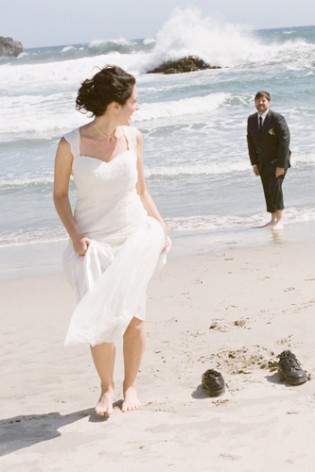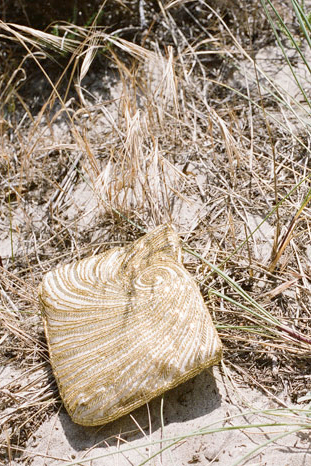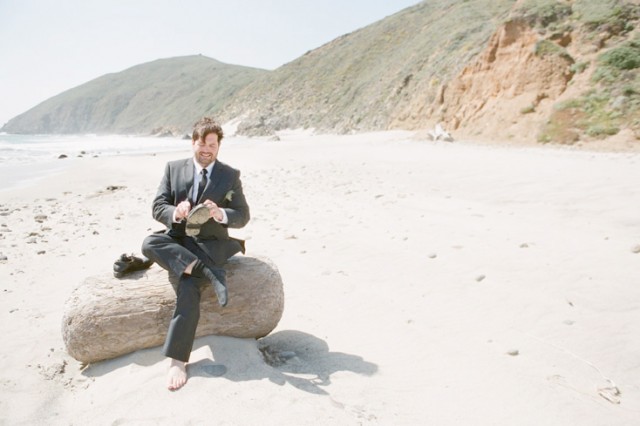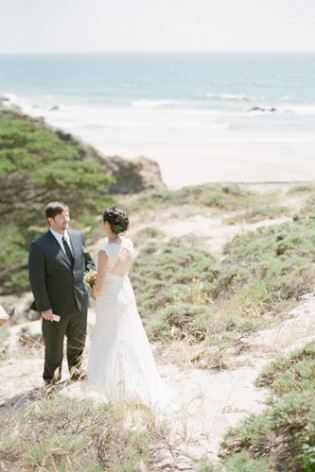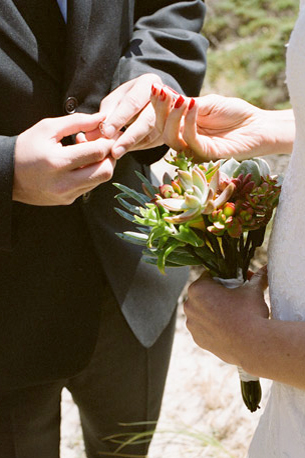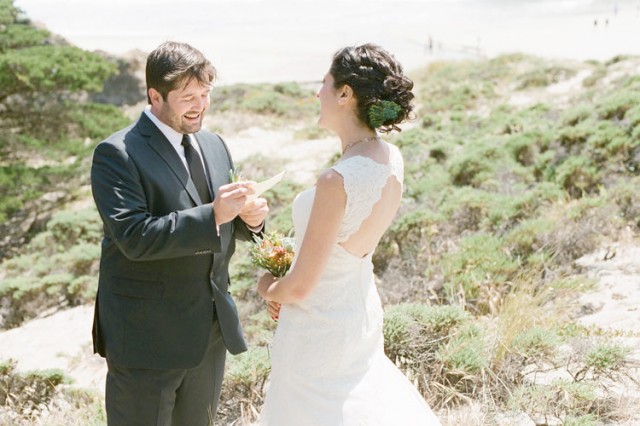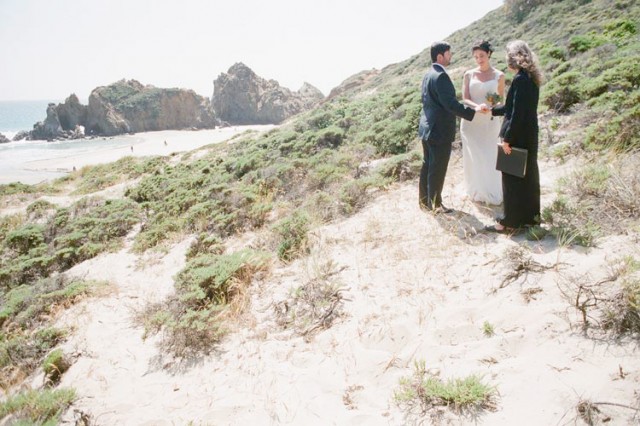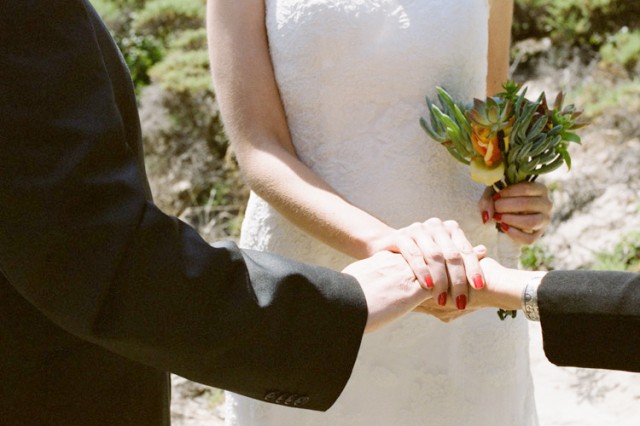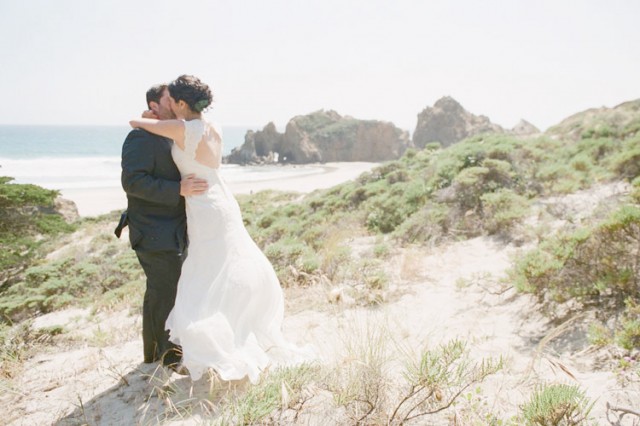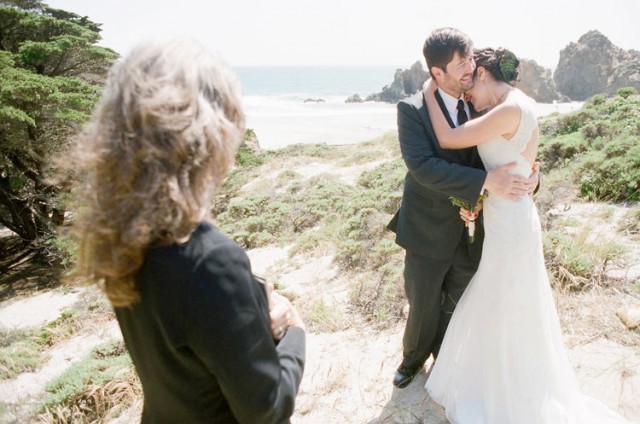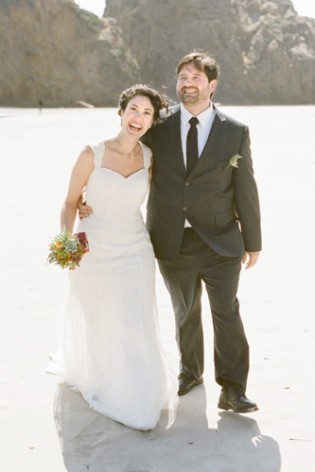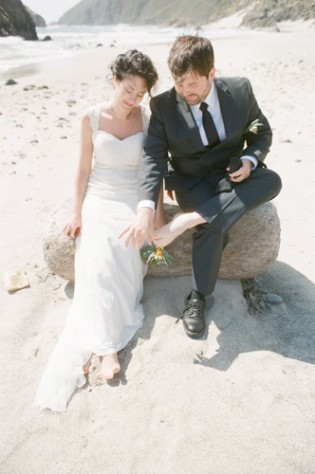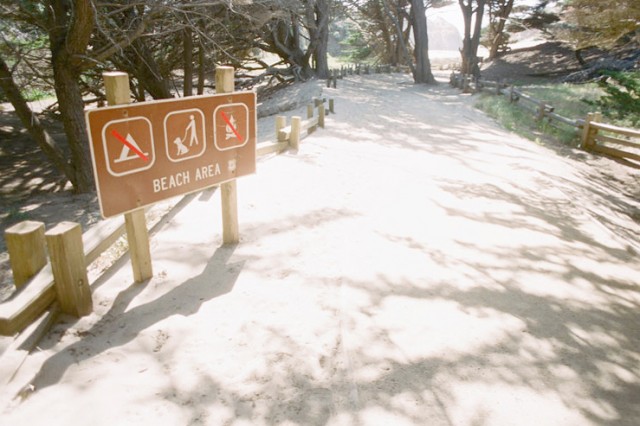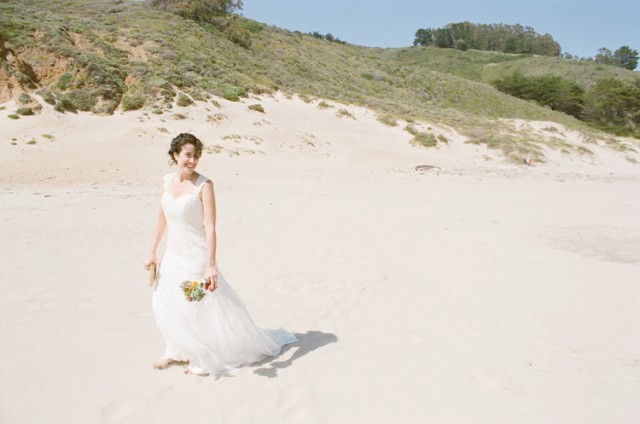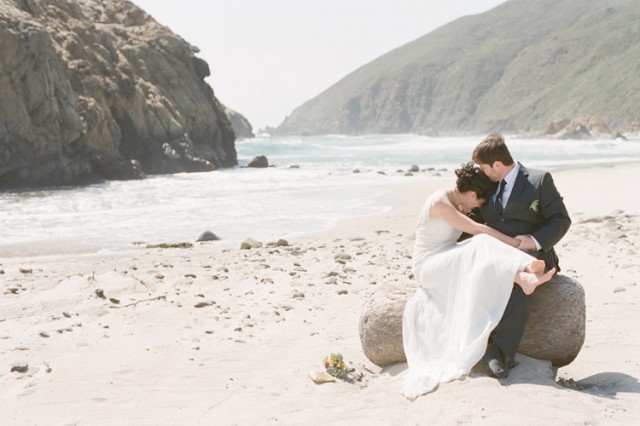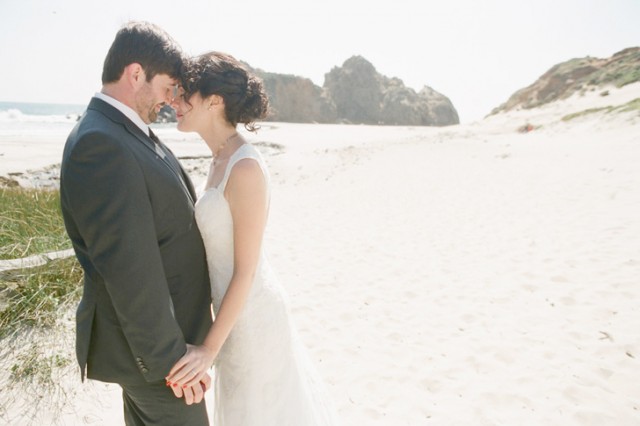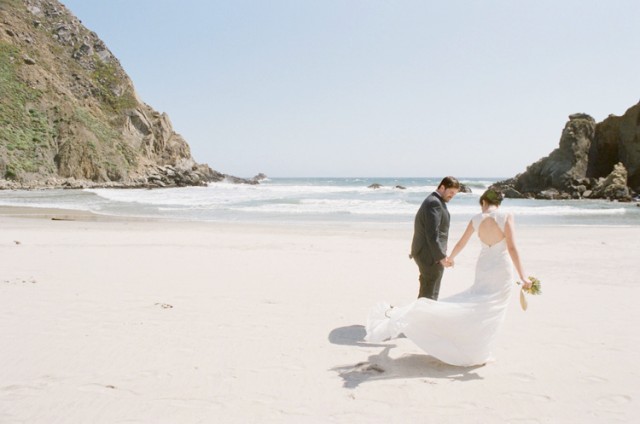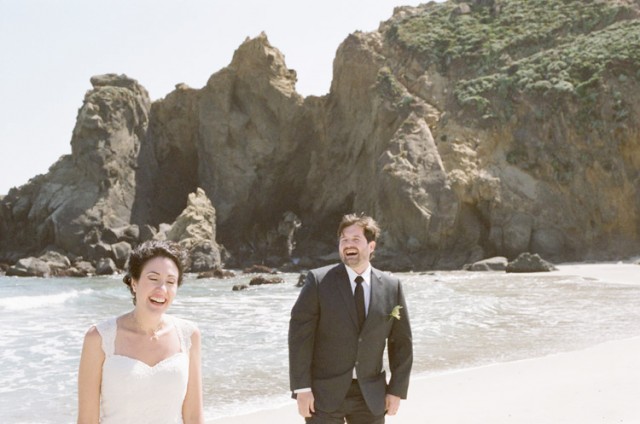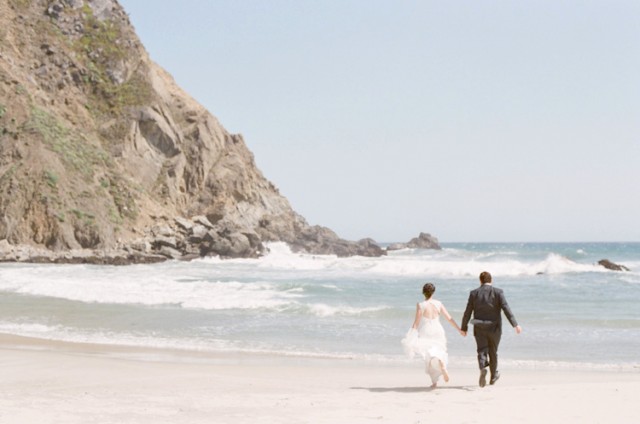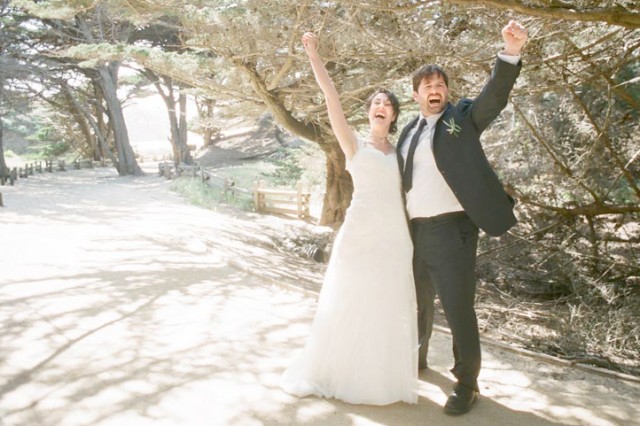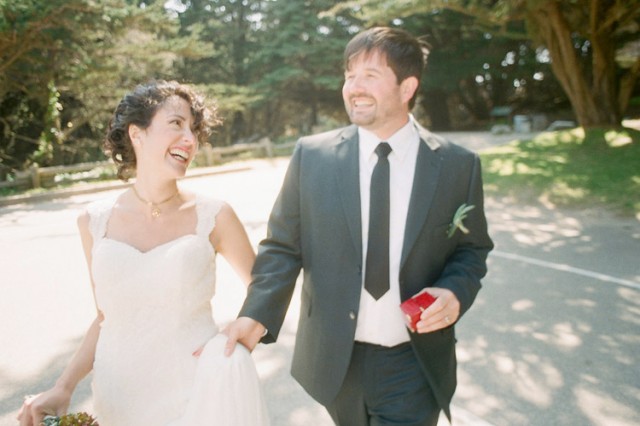 The Happy Couple:
Wedding Date and Location:
May 24th, 2011
Pfeiffer Beach in Big Sur, California
Medium:
Film
Black and white medium format film
Color 35mm film
What Made Our Wedding Creative:
Our wedding was the most beautiful day of our lives!  It was incredibly intimate, relaxing and romantic being that it was just the two of us.  The natural landscape- the salty air, the smell of pine, the sun on our faces- added to the overall etheeral nature of the event.  Big Sur has to be one of the most magical places on earth and we couldn't have asked for a more beautiful setting for our wedding.
We are pretty goofy people, so we made sure to have a little fun with wedding traditions.  For example, Tom blindfolded himself so as not to see me before the wedding!  This meant that I had to drive to Pfeiffer beach as Tom sat blindfolded in our Honda Civic.  The park ranger was pretty confused as I had to explain what was happening (i.e. "no he is not my hostage!")   Keep in mind I did this in my wedding dress!  It must have been a funny sight to see.
After our ceremony , we had an amazing post-wedding meal at Post Ranch Inn, which is a restaurant perched on top of a cliff overlooking the Pacific.  When we sat down, the waiter came by smiling and handed us an envelope. In the envelope was a gift certificate from our friends and family for our meal (which by the way, was the MOST amazing meal of our lives!).  It was so thoughtful we were brought to tears thinking about all the love that was surrounding us on that special day.
Our Biggest Challenge:
Our biggest challenge was deciding on whether we wanted to elope or not.  For a few months, we went back and forth on whether we should have a traditional wedding with a guest list.  Fortunately, we have wonderful friends and family who supported us in anything we decided to do.  After eloping, we knew that we had made the right decision as it helped us to really focus on each other and the commitment we were making.
Our Favorite Moment:
We imagine many couples feel this way, but our favorite moment was our first husband/wife kiss! It was absolutely amazing.
Advice to Others:
Our advice would be to do exactly what you want to do.  It is easy to get swept away in the "wedding industrial complex" but at the end of the day, it is about the two of you and the bond you will be making for the rest of your lives.
Favorite Vendors and Shopping Links:
It goes without saying that Doug D is AMAZING!  We are so happy that he was there to capture all of the details.  The photos speak for themselves and we will cherish them forever!
If you need an officiant in Big Sur, we would also highly recommend Soaring Starkey.
Also, if you haven't eaten at the Post Ranch Inn- it is a splurge that you will never forget!